Aunt Sissie's Apple Brunch Cake
2010 Baking Contest Entry
| | |
| --- | --- |
| | Cake: |
| | 1 Tbsp. brandy |
| | 1 cup raisins |
| | 1-1/2 cups vegetable oil |
| | 3 eggs |
| | 2 cups sugar |
| | 3 cups all purpose flour |
| | 1 tsp. baking soda |
| | 1/4 tsp. salt |

| | |
| --- | --- |
| | 1 cup black walnuts, chopped fine |
| | 1 cup unsweetened coconut |
| | 1 cup raisins |
| | 3 cups peeled and chopped Jonagold apples |
| | Topping: |
| | 1 cup brown sugar |
| | 1 stick butter |
| | 1/4 cup milk |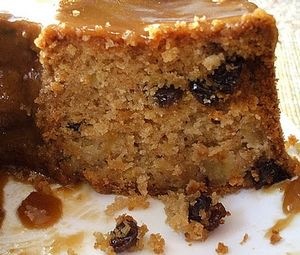 Directions
Soak raisins in brandy overnight in a glass bowl.

Preheat over 325°. Mix well oil, egg and sugar in a large bowl. Add remaining cake ingredients including soaked raisins and mix well with spoon. Bake in greased tube pan for about 1-1/2 hours. Cool in pan 5 minutes, then invert onto serving plate.

While cake is cooling, make the topping. Bring to boil and boil for 2-1/2 minutes the brown sugar, butter and milk. Spoon over warm cake, allowing to run down all sides. Cool cake completely, then store in airtight container.
Serving Information
This cake is best made a day or two ahead of serving it.
Additional Information
Difficulty Level: 2 · Preparation Time: overnight + 20 minutes · Recipe Source: Kim Whalen, Forest, VA · Cooking Time: 1-1/2 hours · Where To Cook: stovetop & oven ·