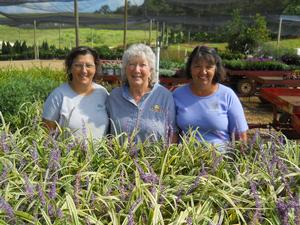 Sarah, Maybelle, Terry Miller
Catfish  
Catfish is our orchard and field nursery production supervisor. He earned his name soon after he came to Saunders Brothers in 1991 when he got ticketed for fishing for catfish with no permit. Many of Catfish's family work or have worked for Saunders Brothers.
Charlie Earl         
Charlie Earl has been with Saunders Brothers for over 50 years. His jobs have included instrument man on the survey crew, hay maker, truck driver, equipment operator and most recently mechanic. Charlie, 74, continues to work on the farm, which he has called home for his entire life.
Emilio   
Emilio began employment at Saunders Brothers in 1987. He is a team foreman in the container nursery. He is often referred to as "Viego" (old man) because of his many years on the farm.
Lora       
Lora began her work in the nursery in the mid 1980's after graduating from high school. Lora works on the nursery loading dock.
Ollie      
Ollie got his name from the first day he arrived at work at Saunders Brothers in 1991, he was wearing an Ollie North hat. Ollie is a nursery production supervisor.

Willie      
Willie was one of the first Hispanic employees at Saunders Brothers when he arrived in the mid 1980's. Many of Willie's brothers, sisters, cousins, nephews, and nieces have become, and still are, Saunders Brothers employees.
Frank     
Frank came to Nelson County in 1978 to pick peaches for Saunders Brothers. He has since become part of the family and is seen as one of the 'Brothers'. He oversees the shop and equipment maintenance.    


Pablo    
Pablo is our 'Jack-of-all-trades', but he says he would have preferred to be a cowboy in the rodeo! He came to the farm in the mid 1980's with his father and brother.  
 



Pancho
Pancho was 16 when he arrived at Saunders Brothers in 1985, and has worked many jobs including production worker, spray man, soil mixer, and delivery driver. In 1998, he became our loading dock supervisor. Pancho loves to watch soccer and listen to romantic music.

Tencia  
Tencia's dad came to work for Saunders Brothers in the mid 1980's. Tencia grew up on the farm and eventually married Pancho Becerra. Tencia is a second mom to many of the workers on the farm cooking meals for them and carrying them to appointments, stores, airports, and bus stations.
 

Valente                 
Valente oversees the irrigation in much of the container nursery. Valente has been a dedicated employee for 30 years. His easy going personality makes him a friend to all.  

Sarah, Maybelle, Terry  
This trio of mother and two daughters have over 80 years of combined service to Saunders Brothers. The farm has named a peach after Maybelle who recently retired after 29 years. Terry is nursery production supervisor and Sarah is in sales. Their family grew up in nearby Tyro, one of the areas hardest hit by Hurricane Camille.