Broccoli with Orange Vinaigrette
Try with our fresh broccoli
| | |
| --- | --- |
| | 1 large head fresh broccoli, stems trimmed away & flowerets split into medium bite-size pieces |
| | 1 tsp. salt (kosher if possible) |
| | 1/4 cup balsamic vinegar |
| | 1/4 cup orange juice |

| | |
| --- | --- |
| | 1 tsp. finely grated orange zest |
| | 1/4 cup olive oil |
| | 4 quarts cold water + 1 Tbsp. salt |
| | 4 quarts cold water + 1 quart ice cubes |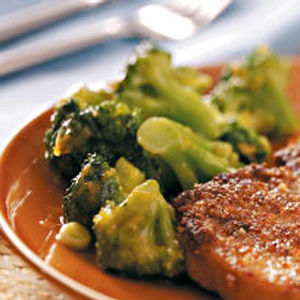 Directions
Prepare a large bowl of ice water. Bring 4 quarts of water and 1 Tbsp. salt to boil. Drop the broccoli into the boiling water and blanch for about 3 minutes or until just beginning to soften at the stem ends. Remove broccoli and reserve the hot blanching water for reheating the broccoli just before serving.
Plunge blanched broccoli into the ice water and leave it in the cold water while preparing the other ingredients.
In a large bowl, whisk together the salt, vinegar, orange juice, orange zest and olive oil to make a light vinaigrette.
Just before serving, drop the cold broccoli into the reserved hot blanching water for a minute to reheat, then drain the broccoli and toss with vinaigrette. Transfer to a serving plate and enjoy!
Additional Information
Difficulty Level: 2 · Preparation Time: 25 minutes · Recipe Source: Chef John Dodge, St. Anne's-Belfield, Charlottesville, VA · Cooking Time: 3 minutes · Where To Cook: stovetop ·