Oven Roasted French Green Beans
New Twist To Green Beans
| | |
| --- | --- |
| | 2 pounds fresh French-style green beans |
| | 4 cloves garlic, peeled & sliced very thin |
| | 1/2 cup sundried tomatoes packed in olive oil |

| | |
| --- | --- |
| | Coarse sea salt, to taste |
| | 1/4 cup extra-virgin olive oil |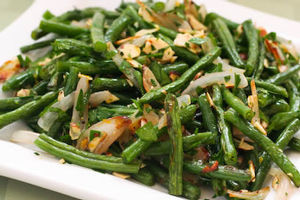 Directions
Preheat oven 425°. Rinse beans in cold water, then drain in a colander. Snip the stem ends off, leaving the beans whole. Drain the excess oil from the sundried tomatoes and slice them into 1/4" wide strips; set them aside. Toss the beans with the olive oil in a large bowl, coating the beans well.

Season the oiled beans with sea salt. Use enough salt as they will lose some of the seasoning in the pan when roasted. Place the beans on a rimmed sheet pan lined with parchment. Reserve the oil and seasoned bowl. Place into preheated oven and roast for 5 minutes. Remove from the oven and turn the beans over. Add the garlic over the beans.

Return the pan to the oven and roast another 5 minutes until the beans begin to caramelize, but be careful not to burn them. They should begin to brown slightly, but be a little firm on the inside; if they are still a bit tough to the bite, roast slightly longer.

Remove the beans from the oven and place them into the reserved bowl. Toss in the sundried tomato strips and gently mix them into the beans, being careful not to break the beans.
Additional Information
Difficulty Level: 2 · Preparation Time: 30 minutes · Recipe Source: Chef John Dodge, St. Anne's-Belfield, Charlottesville, VA · Serves: 6 · Cooking Time: 10 minutes · Where To Cook: oven ·